TECH5 leads the Charge in Biometric and Digital

ID Innovation
We are bridging the digital gap, heightening security and privacy, and cutting down total ownership costs. Our biometric solutions provide unmatched identity verification certainty, allowing individuals and entities to govern their digital identities. We picture a future where digital IDs are entirely owned and managed by their holders, biometrically verifiable, and inclusive.

Capture
Transform your biometric capture with our all-inclusive end-user apps, SDKs, and server elements. TECH5's versatile, reliable solutions support traditional and contactless capture, simplifying security, authentication, and user experience enhancement.

Identify
Achieve ultimate adaptability by customizing and blending matching, anti-spoofing, and quality assessment algorithms for any biometric modality. Our cutting-edge algorithms guarantee swift, precise, and dependable search results for 1:1, 1:N, and N:N scenarios.

Credential
Effortlessly craft custom cards, digital credentials, and cryptographs code-free. Our knowledge in credentialing and cutting-edge biometrics ensures tailored, secure, and user-friendly solutions.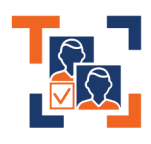 Verify
Implement TECH5's pioneering biometric identity solutions for seamless proofing, authentication, and verification. We have a solution for virtually any use case across every industry.